Community Comments
Liverpool FC Transfer News: Granit Xhaka Wants "Dream" Move
latortillablanca: look forward to seeing how him and pogba dovetail with silva, aguero, an auba in front of them.

Indy Red: Let's not go crazy
I don't think City will sell us Silva and Augero both.
"Xhaka, Can" partnership...
Echoes of an era.

— vitu
Everything's the Worst: The (Slightly) Unbearable
But its hitting reset with Jurgen Klopp.
I mean, Jurgen effin Klopp!!
That's not like rebuilding under "steady the ship Hodgson", or an "out of the game for 15 years Dalglish" or a "rookie Rodgers".
The guy was the most bankable manager in football and we got him. Its cool.

— Geoff Twentyman
Klopp "Not in the Market for Big Names" Says Ex-Red
Nerf: I'm struggling to name a single reason why I should consider Jason McAteer's (of all people) insight into how Jurgen Klopp operates.

Agent moyes: Yeah this is a guy that brought out a wooden hanger to try open his locked car. Nothing he said however sensible it might sound would I listen to
Kevin Stewart May Face Lengthy Injury Setback
Why does he keep his hamstring in his ankle?

— Luis Suarez Dentist
Klopp Offers Markovic Lifeline
Bejnay: Can we really be sure that Achilles' downfall was actually as written in lore? Or was it actually his hamstring?

Tras: The first draft of The Iliad included a character by the name of Hamstring. His constant limping became tiresome and Homer wrote him out.
Matip Searching for "Something New" with Liverpool
Looking for something new
Never had a hamstring injury before, eh Joel?

— tkired
Official: Joel Matip Agrees Liverpool Deal
I like this gegenshopping. More like this please.

— Moldendecay
Klopp walks into a bar in Gelsenkirchen. A few minutes later he runs out of the bar with a jar under his arm. The bartender runs out behind him, apparently in chase. He manages to flag down a nearby officer.
Out of breath, the bartender says, "Officer, arrest this man!".
"On what grounds?!", replied the officer.
Furious, the bartender shouts, "HE STOLE MA-TIP!"
Klopp replies, cool as ever, "It's cool. Everything is normal in this situation. Ian told me it was free because of your Boss-man's ruling or something like this."

— ITStheGP
Staff Comment
Official: Joel Matip Agrees Liverpool Deal
gegenpress: According to ESPNFC all of his goals were headed from set pieces

Zach: Wait... when did we play Schalke this season?
Gif of the Week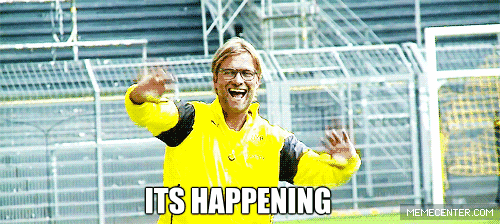 (via Chief Ralphie the Red)
Stats
Total commenters: 189
Total comments: 1887
Community Notes
If it's not on this list, what was your favourite comment (not made by you!) this week?