Community Comments
Liverpool 2, Middlesbrough 2 (14-13 pens): First Thoughts
We never scored 16 goals with Suarez in the team..
Who needs him when we have absolutely no trouble finding the back of the net.

— jack's complete lack of surprise
Kid: "Hey Grandad, can you tell me about the time Liverpool and Middlesborough had an epic penalty shoot-out?"
Grandad: "Shut-up kid I think it's still going"

— SASASAS
Liverpool and their team of JORDANS

two Jordans made their debuts today, one came on for the other.

how are there so many Jordans at liverpool?
Jordan Ibe
Jordan Rossiter
Jordan Williams


Jordan Henderson

...

Jordan Sterling
Jordan Sturridge
Jordan Gerrard
Jordan Lambert
Jordan Llalana

— soldier4christ29000
Liverpool 2, Middlesbrough 2 (14-13 pens): Liverpool Win in Marathon Penalty Shooutout
Maybe Johnson? And what of Sterling?
I get the feeling that Rodgers is trolling the very concept of rotation itself, waving his wooden leg at it as he pilots the LFC-Pequod further and further out into the open seas of 2014-15. What metaphorical leg has rotation bitten off of you, Rodgers? Do you not realize that rotation—immense, insentient, to say nothing of being a complete abstraction—takes no part in this contest, cares not whether it wins or loses, and remains oblivious to your very existence?

— Farce of Nature
Everything's the Worst: King of Kings Edition
If Brendan Rodgers sat down at a plush Chinese restaurant on Sunday night, opened his fortune cookie after a satisfying meal and desert, it would read: "You will have quite a few chances to sort your team out for the top four irrespective of injuries and some worrying performances."

The fortune cookie also says: "Your lucky numbers are NOT 8 and 21. Never 8 and 21. Fuck's sake, mate."

— saintgrobian
Rodgers Hints Gerrard's Minutes May Need Managing
In other news Scientists state that the Earth is actually spinning around the sun.

— Nebhamoo
Rodgers Sees Potential, Martinez Talks Psychology
divchev: I read your name as Mats Hummels

Metal_Hummus: That's your subconscious yearning for a better defense.
Mamadou Sakho Apologizes for Early Anfield Exit
Ed: I'm about 87% in on BR, but that 13% never fails to piss me off.

Quicksloth: I am confused, what about the remaining 57%?
Balotelli's Mowhawk mounted a defense of Mario Balotelli. smooth sailing provided some background on Financial Fair Play and how it will affect Liverpool.
Staff Comment
Mamadou Sakho Apologizes for Early Anfield Exit
For me it's out of character and mildly disappointing, and absolutely nothing more. Doesn't need to be an indicator of a team in revolt or discord in the changing room or whatever. Mostly a 24 year old who, despite generally being awesome and appearing mature beyond his years in most areas, might have been pissed about being left out of the starting eleven/squad and overreacted.

Then he apologized, because he remembered the added expectation his status holds, and everyone went back to worrying about how the hell Liverpool are going to score goals without

Daniel Sturridge

.

— Ed
Gif of the Week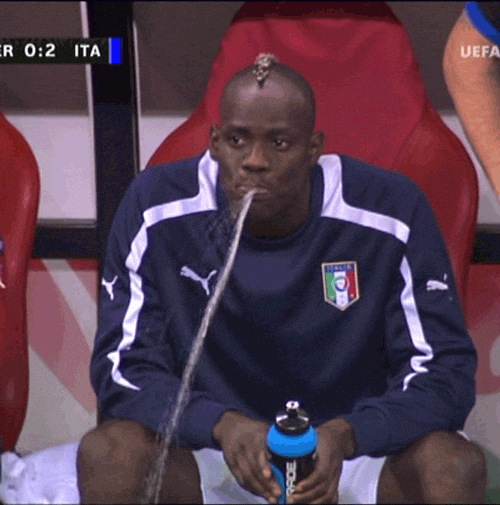 (via Balotelli's Mohawk)
Stats
Total commenters: 229
Total comments: 3500
Total recs (lenient or otherwise): 2872
Total green comments: 188
Community Notes
Welcome to delurkers Balotelli's Mohawk, Animesh_lfc, and simsherman. Apologies if I missed anyone!
If it's not on this list, what was your favourite comment (not made by you!) this week?