It's the final region of the first round, headlined by John Barnes and Steve McManaman. You can still vote in the Houllier Regional, Evans Regional, and Benitez Regional, by the way.
Click the image of the bracket to take a closer look at the match-ups or head to OYB for the full 64, then scroll down for a brief recap of each player's achievements and to leave your vote for who you think should advance.

1. John Barnes
From 1987-1992, John Barnes was the best player in England. This isn't really up for debate. Granted, that's before the timeframe of this competition, but it's not as if his Liverpool career from 1992-1993 on disappointed as he moved into central midfield after hamstring and achilles injuries. For his final five seasons with Liverpool, Barnes was the deep-lying playmaker as well as a mentor to Steve McManaman. He was named captain in 1995-96 after Ian Rush lost his place to Stan Collymore. A decade after joining the club, 407 appearances and 108 goals later, Barnes left Liverpool in 1997, joining Kenny Dalglish's Newcastle on a free transfer.
16. Phil Babb
Poor Phil Babb. The center-back made 170 appearances over five seasons, but this is what he'll always be remembered for.

2. Steve McManaman
Remember when Liverpool actually had wingers? Barnes was followed by Steve McManaman, the fulcrum of Roy Evans' side whether deployed on the flanks or in a free role. A graduate of Liverpool's academy, Macca had it all: flair and work-rate, goals and assists, able to beat his man with a drop-of-the-shoulder mazy dribble or a defense-splitting pass. But, in a move that foreshadowed Michael Owen six years later, Liverpool allowed McManaman's contract to run down before he joined Real Madrid on a free after the 1998-99 season. Also in Macca's favor, even if it's not relevant here: his dulcet tones are currently the best thing about ESPN's US Premiership coverage.
15. Ryan Babel
Remember when Liverpool actually had Ryan Babel as a winger? For a short time, Babel was Liverpool's third-most expensive signing, arriving in the same summer as Fernando Torres and Yossi Benayoun. And he looked the part in his first season, appearing in 49 of 59 matches and scoring 10 goals. But he never progressed any further, far more frustrating than fantastic, drifting in and out of both games and the squad until sold to Hoffenheim during the 2010-11 season.

3. Jan Mølby
Like Barnes, Nicol, and Whelan, Jan Mølby might be seeded higher than his tenure during this competition's timeframe merits. But the rest of his career merits more than a little praise. Arriving in August 1984, the midfielder only made 32 appearances from 1992-93 until his release in early 1996; by the start of the Premiership, Mølby was plagued by injuries, often used as a center-back when he actually played. But in his prime, he was the archetypal central midfielder despite that ubiquitous "lack of mobility." Bob Paisley called him the most gifted player he'd seen in a Liverpool shirt, and Paisley saw a few. Incidentally, this interview between Mølby and Lucas is wonderful.
14. Joe Allen
Joe Allen plays in midfield, followed Brendan Rodgers from Swansea, and might well be Rodgers' illegitimate son. How else can you explain his near-permanent selection in the squad until season-ending shoulder surgery? Maybe it's because he's only 22 and can play in any of the central midfielder roles, far more comfortable replacing Lucas than any of last season's options even if he's not Lucas but also capable and busy in an attacking role. The Welshman's still improving, will improve, and will likely be a big part of Rodgers' Liverpool for years to come.

4. Steve Nicol
Nicol featured from 1982 to 1994, was capable of playing almost any position on the pitch, and was named the FWA Player of the Year in 1989. Legitimately two-footed, he could play on either flank as a winger or fullback, and also as a central defender. Only 17 players – four in this tournament – have made more appearances for Liverpool. Just 79 of Nicol's 468 appearances came from 1992-93 on, but he remained an important part of the side until Babb and John Scales arrived in 1994-95 and Evans switched to a 3-5-2 system, joining Notts County as player-coach in January 1995.
13. Paul Ince
Paul Ince, most famous for his time at Manchester United, was actually captain of Liverpool from 1997 to 1999. Let's just pause to let that sink in. He was a near ever-present during Evans' last season and Houllier's first, making 81 appearances and scoring 17 goals – including an 89th-minute equalizer against the Mancs in May 1999 – then summarily fell out of favor with the French manager and was sold to Boro shortly before the 1999-2000 season. His replacement, one Dietmar Hamann, didn't fair too badly.

5. Ronnie Whelan
Similar to Stevie Nicol, Whelan joined in the early 1980s, made more than 400 appearances as one of Liverpool's most important and solid players during those glorious heydays, but was on his way out by the time Souness' sometimes-nightmarish regime came to an end, missing long stretches through injury during in his final four seasons. While his 23 appearances in 1993-94 were more than he made in the previous three seasons, Whelan left the club prior to Roy Evans' first full season, like Nicol, joining a lower division club (Southend United) as a player-manager.
12. Djibril Cisse
Liverpool's record signing in the summer of 2004, two crucial things went against Cisse. First, the manager who had tracked him for years was replaced by Rafa Benitez just after Cisse signed. Second, the French striker suffered two horrific leg breaks in 2004 and 2006. Cisse rarely looked a "Benitez player": head-down and selfish as a striker, often used on the right in 2005-06. Still, he scored goals, especially in 2005-06; only Gerrard's 23 were more than Cisse's 19 in his second season. Also, it doesn't have the same ring as "The Gerrard Final," but there was a "Djibril Cisse Final." Without the Frenchman's two goals – one in the dying minutes, one in extra time – Liverpool don't win the 2005 Super Cup. In addition, Cisse scored the much-needed first in that Gerrard Final, getting Liverpool back into the game against West Ham before Gerrard's heroics took over.

6. Lucas Leiva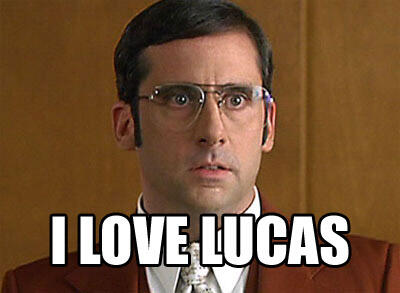 11. Jason McAteer
Google McAteer, and there are mountains of stories about his daftness, some surely apocryphal but most simply hilarious. McAteer made 139 appearances for Liverpool, mainly as a right wing-back in Evans' 3-5-2 system despite playing as a central midfielder at his previous clubs. He was never the most gifted, but as a boyhood Liverpool fan, was one of those players willing to run through a brick wall for the club. McAteer began to be phased out when Liverpool stopped using wing-backs, unable to pin down a position as an orthodox fullback or in central midfield.

7. Jerzy Dudek
Liverpool would not have won the 2005 Champions League Final without Jerzy Dudek. Sure, there's more than enough credit to go around – Hamann's entrance at halftime, Gerrard's all-action performance, Smicer and Alonso's crucial goals, Traore's (!!!) goal-line clearance – but the first thing most remember from that final is Jerzy Doing The Dudek in the penalty shootout. The second is his jaw-dropping double save on Shevchenko in extra time. Signed on the same day as Chris Kirkland, Dudek made 186 appearances before being replaced by Pepe Reina at the start of the 2005-06 season.
10. Harry Kewell
Injuries, never-ending injuries, blight the memory of Harry Kewell – a player who had to be substituted in not one but two cup finals – but Kewell's signing seemingly marked a potential renaissance for Houllier's side. Acquired at a knockdown, nearly illegal price thanks to Leeds' financial troubles, only Michael Owen scored more league goals in Kewell's first season. But then came Benitez, and those injuries, and Kewell painfully flitted in and out of the squad during his final four seasons before joining Galatasaray in July 2008.

8. Glen Johnson
Liverpool's most expensive defensive signing, England's rightful right back (don't even start with that Kyle Walker nonsense), and now arguably the best at his position in the Premier League. Ignoring Alberto Aquilani (and we all should), Johnson was Benitez's last major signing, and he's now found his best form and – knock on wood – an end to recurring injuries under Brendan Rodgers, increasingly adding defensive solidity to his undeniably excellent forays forward. Two-footed, as he's shown with brilliant goals with both his left and right, Johnson's also proven a useful stop-gap when needed on the opposite flank, almost as comfortable at left back as he is in his preferred position.
9. Nicolas Anelka
What if Liverpool signed Nicolas Anelka permanently? is one of the great Liverpool What Ifs in recent years. Anelka impressed during a six-month loan in the second half of the 2001-02 season, with his four goals in 20 games helping Liverpool reach 2nd place. But rather than agreeing a permanent deal, Houllier decided to buy El Hadji Diouf instead, as – according to Phil Thompson – Anelka's brothers had attempted to get Arsenal involved in a bidding war while Anelka was at Liverpool. And we all know how that turned out.
Liverpool March Madness:
Houllier Regional
Evans Regional
Benitez Regional